Poinsett
42°
Fog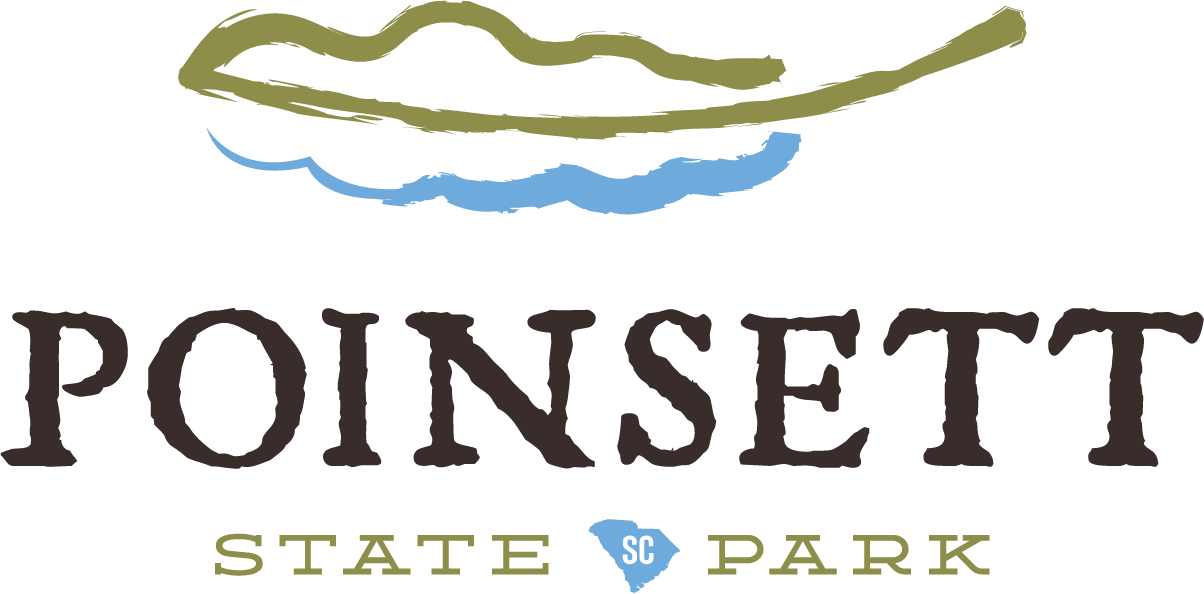 HOURS
9am-dark, year round
OFFICE
11am-noon & 4pm-5pm


PETS
Pets are not allowed in the cabins or the cabin areas. Pets are allowed in most other outdoor areas provided they are kept under physical restraint or on a leash not longer than six feet. Owners will be asked to remove noisy or dangerous pets or pets that threaten or harass wildlife.
Wifi Available
BY THE NUMBERS
1
of 16 SC State Parks built by the Civilian Conservation Corps
200
men in 3 different CCC camps built what is now Poinsett State Park
25.6
miles of trails for mountain biking, hiking, and running
10
acres on Levi Mill Lake to fish, swim, or boat and recreate in at Poinsett State Park
50
campsites are available with 24 including power and 26 without power in a beautiful wooded setting
2016
the year Poinsett was placed on the National Historic Registry
5
Rustic CCC Cabins are available for rental that include everything inside but the food
1934
the year construction began at Poinsett State Park by the CCC
5
Stand Up Paddleboards, 8 Kayaks, 1 Jon Boat, 3 Canoes, 1 Pedal Boat available for rent
1000
acres of diverse landscape that offers a taste of the mountains all the way to the low country.
Poinsett State Park
Midlands
Things To Do
Fishing Information: Enjoy fishing in the park's 10-acre lake for bass, bream and catfish. A valid South Carolina fishing license is required.


Fishing: Yes
Freshwater Fishing: Yes
Boating and Boat Access: Private boats are allowed on the park lake and rental fishing boats are available.

Private boats must be under 14 feet, and the boat must be carried from the parking lot to gain access to the lake. Gas motors are not allowed in the park lake.


Fishing Boat Rentals: Jon boats are available for rental at $10/hour.


Canoe/Kayak Rentals: Canoes are available for rental at $10/hour.


Pedal Boat Rentals: Pedal boats and stand-up paddleboards are available for rental at $10/hour.


Paddling: Yes
Wireless Internet Access: Complimentary wifi is available at the park visitor center for park guests. It does not extend into our cabin area or campground. Please check at the visitor center for password information.


Park Store/Gift Shop: A small gift shop is located in the park visitor center. Items for sell include park logo tshirts, hats, mugs and we also have firewood.


Picnic Shelters: Yes
Swimming: The swimming area at Poinsett is open from Memorial Day weekend through Labor Day weekend. The area is swim at your own risk and there is no lifeguard on duty.


Bird Watching: Several areas of the park are ideal for birdwatching.


Geocaching: Geocaching is permitted. Several geocaches are located on the park. For more information visit the official geocaching website.


Biking: Yes
Birding: Yes
Other Facilities and Activities: Stand up paddleboards (SUPs) are available for rent for $10/hour, each day of the week, Apr. through Oct. from 9 a.m. to 5 p.m. You must be 18 years old to rent them or accompanied by a parent or legal guardian.


Hiking Trails: Certain trails at Poinsett connect to the Palmetto Trail which goes through Manchester State Forest and Mill Creek County Park. Permits are required for biking and equestrian activity on Manchester State Forest. Please visit their website for more information.

Hiking trails that can be accessed from the park include: Coquina Trail, Laurel Group Trail, Hill Top Trail and Scout Trail. The Santee Passage and Wateree Passage of the Palmetto Trail can also be accessed from the park. Please visit their website for maps and more information.


Hiking: Yes