Poinsett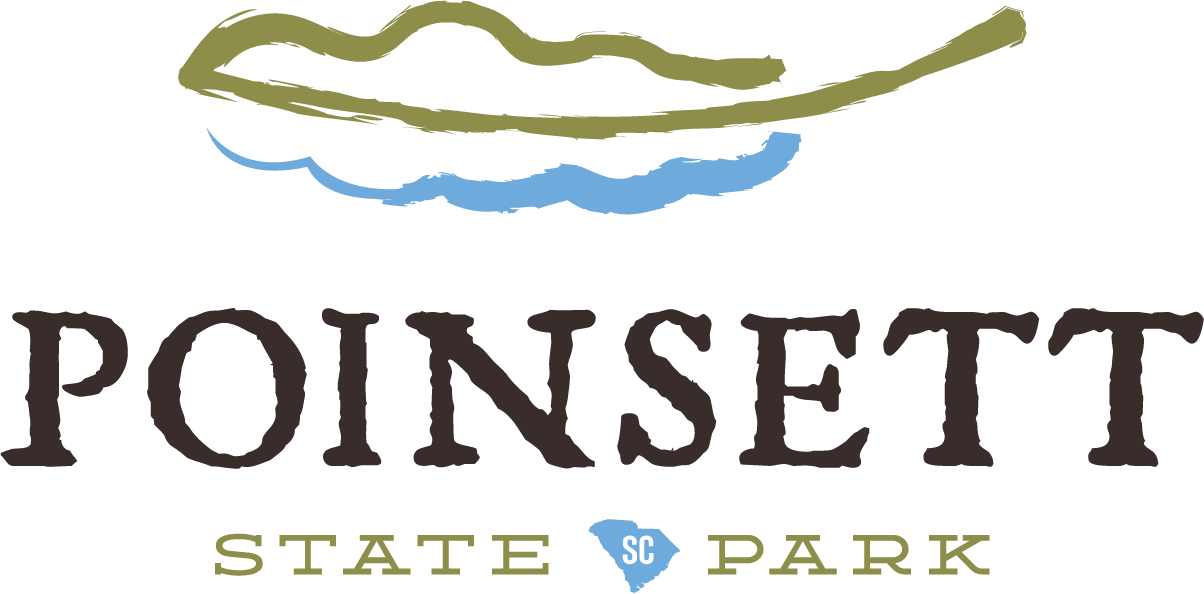 HOURS
9am-dark, year round
OFFICE
11am-noon & 4pm-5pm


PETS
Pets are not allowed in the cabins or the cabin areas. Pets are allowed in most other outdoor areas provided they are kept under physical restraint or on a leash not longer than six feet. Owners will be asked to remove noisy or dangerous pets or pets that threaten or harass wildlife.
Wifi Available
Poinsett State Park
Midlands
Frequently Asked Questions
Does Poinsett State Park allow swimming?
Swimming is allowed in a designated swimming area from Memorial Day to Labor Day. The area is swim at your own risk and there is no lifeguard on duty.
What time can I check-in/out of my cabin?
Check-in time for park cabins are 4pm (Guests arriving after 5pm need to call the park office and leave a message with a return phone number prior to 4pm so that park staff can make arrangements with the customer for a late check-in)

Check-out time for park cabins are 10am. (Guests are asked to please adhere to the posted check-out time so that park staff are able to clean the cabin for the following guests for their check-in)
What amenities are provided in your five cabins at Poinsett State Park?
Poinsett cabins include:
Pillows and linens
Towels, wash cloths, and hand towels (for maximum occupancy, for stays longer than 7 days a linen exchange way be requested every 4th day)
A complementary bars of soap, toilet paper, dish soap, coffee maker and filters, general cooking utensils and flatware, glasses, mugs, plates, pots and pans.
Stove, refrigerator w/freezer, coffee maker, microwave.
Central heating and air conditioning
Fully functional fireplace
Cabins 1-4 equipped with tankless water heaters.
Do your cabins have televisions?
Cabins 1-4 do not offer televisions. Cabin 5 has a television with basic/local channels.
What should I bring to make my stay more enjoyable?
Cabins:
Coffee
Water bottles
Extra towels
Food
Charcoal / lighter fluid for grill
Bike/mountain bike
Binoculars
Hiking boots
Camera
Sunscreen
Daypack
Field guide
A good book
S'mores
Camping:
Trash bags
Food
Charcoal / Lighter fluid for grill
Bike
Binoculars
Hiking boots
Camera
Sunscreen
Daypack
Field guide
Tent
Sleeping bag
Ground cloth
Batteries
Flashlight
S'mores
Is horseback riding allowed at Poinsett State Park?
Horseback riding is not allowed within Poinsett State Park but is available in surrounding Manchester State Forest. Permits are required and daily use varies. Please contact Manchester State Forest directly at 803-494-8196 or visit their website for more information.
Where is the CCC spillway/ waterfall located?
The historical CCC waterfall / mill site is located 30 yards west of the office, just past the stone bridge that crosses over to the dam.
Where is the park's Ultimate Outsider stamp located?
Our Ultimate Outsider stamp is located at the park kiosk outside of the park office, as well as at the information table inside of the Tea Room.
Where can I find a list of state park rules and regulations?
You can find the South Carolina State Park rules and regulations, along with campground rules and regulations at this link.
For more general, statewide frequently asked questions, please click here.