Rivers Bridge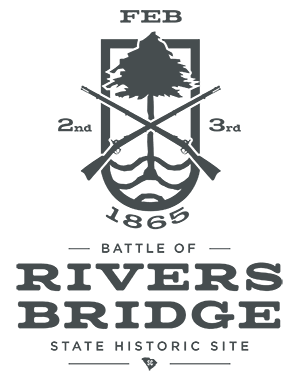 TRAVEL ADVISORY
Join us for on Friday, May 10 for the 143rd Annual Commemoration of the Confederate Memorial Day. Click here to learn more.

HOURS
9 a.m. - 6 p.m., daily
OFFICE
11 a.m. - noon, daily

ADMISSION
Park admission is free. Saturday tours are $5 for adults, $2.50 for SC Seniors, disabled and military. Children under six and anyone wearing an Ultimate Outsider shirt are free.

PETS
Pets are allowed in most outdoor areas provided they are kept under physical restraint or on a leash not longer than six feet.


No Wifi Available
Rivers Bridge State Historic Site
Midlands
Unique Features
Significant Features: The park is bordered by Three Mile Creek and the Salkehatchie River.

The breastworks at Rivers Bridge State Historic Site are original, preserved and over 140 years-old. Please tour around them and do not walk over the breastworks.


Wildlife: WIldlife that may be seen include: gray squirrels, fox squirrels, white-tailed deer, armadillos, gray and red foxes, alligators, a variety of snakes, raccoons and opossums.