Rivers Bridge
70°
Rain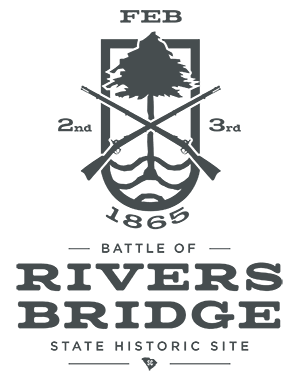 HOURS
9 a.m. - 6 p.m., daily
OFFICE
11 a.m. - noon, daily


PETS
Pets are allowed in most outdoor areas provided they are kept under physical restraint or on a leash not longer than six feet.


No Wifi Available
BY THE NUMBERS
3.5
miles of hiking trails
3
hiking trails featuring a variety of natural and cultural resources
390
acres bordering the beautiful Salkahatchie River and Three Mile Creek
1
rental community building that can accommodate up to 100 people
7
days a week the park offers tours
7
World War II veterans remembered
4
county Civil War monuments
Rivers Bridge State Historic Site
Midlands
Unique Features
Significant Features: The park is bordered by Three Mile Creek and the Salkehatchie River.

The breastworks at Rivers Bridge State Historic Site are original, preserved and over 140 years-old. Please tour around them and do not walk over the breastworks.


Wildlife: WIldlife that may be seen include: gray squirrels, fox squirrels, white-tailed deer, armadillos, gray and red foxes, alligators, a variety of snakes, raccoons and opossums.