Rivers Bridge
41°
Cloudy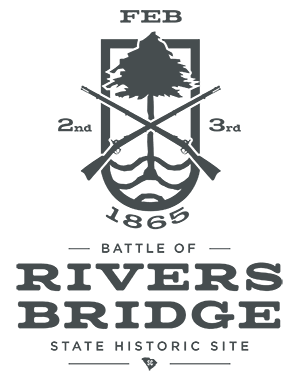 HOURS
9 a.m. - 6 p.m., daily
OFFICE
11 a.m. - noon, daily


PETS
Pets are allowed in most outdoor areas provided they are kept under physical restraint or on a leash not longer than six feet.


No Wifi Available
BY THE NUMBERS
3.5
miles of hiking trails
3
hiking trails featuring a variety of natural and cultural resources
390
acres bordering the beautiful Salkahatchie River and Three Mile Creek
1
rental community building that can accommodate up to 100 people
7
days a week the park offers tours
7
World War II veterans remembered
4
county Civil War monuments
Rivers Bridge State Historic Site
Midlands
Things To Do
Boating and Boat Access: Private boat access to the Salkehatchie River is a half-mile from the park.

Only canoes and boats with trolling motors allowed on the Salkehatchie River.


Picnic Shelters: Yes
Bird Watching: The site is a great place for bird watching. Abundant wild turkeys, hawks, falcons, red-headed and pileated woodpeckers, snowy and cattle egrets are some of the birds that may be seen on the park.


Geocaching: Geocaching is permitted. Several geocaches are located on the park. For more information visit the official geocaching website.


Biking: Yes
Birding: Yes
Hiking Trails: The Battlefield Interpretive Trail is a self-guided trail about 3/4 of a mile with interpretive wayside panels. There are also two easy-to-hike nature trails located on the park.
Biking Trails: Visitors may bike on the Retreat Road extending from the memorial grounds to the battlefield, at the picnic area and on the roads in the park.