Rivers Bridge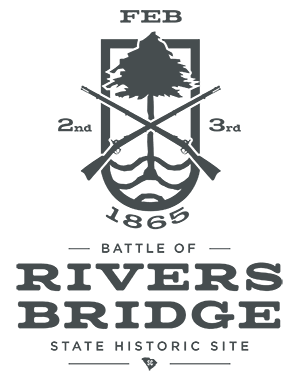 TRAVEL ADVISORY
Join us for on Friday, May 10 for the 143rd Annual Commemoration of the Confederate Memorial Day. Click here to learn more.

HOURS
9 a.m. - 6 p.m., daily
OFFICE
11 a.m. - noon, daily

ADMISSION
Park admission is free. Saturday tours are $5 for adults, $2.50 for SC Seniors, disabled and military. Children under six and anyone wearing an Ultimate Outsider shirt are free.

PETS
Pets are allowed in most outdoor areas provided they are kept under physical restraint or on a leash not longer than six feet.


No Wifi Available
Rivers Bridge State Historic Site
Midlands
Things To Do
Boating and Boat Access: Private boat access to the Salkehatchie River is a half-mile from the park.

Only canoes and boats with trolling motors allowed on the Salkehatchie River.


Picnic Shelters: Yes
Bird Watching: The site is a great place for bird watching. Abundant wild turkeys, hawks, falcons, red-headed and pileated woodpeckers, snowy and cattle egrets are some of the birds that may be seen on the park.


Geocaching: Geocaching is permitted. Several geocaches are located on the park. For more information visit the official geocaching website.


Biking: Yes
Birding: Yes
Hiking Trails: The Battlefield Interpretive Trail is a self-guided trail about 3/4 of a mile with interpretive wayside panels. There are also two easy-to-hike nature trails located on the park.
Biking Trails: Visitors may bike on the Retreat Road extending from the memorial grounds to the battlefield, at the picnic area and on the roads in the park.