Rivers Bridge
50°
Clear Sky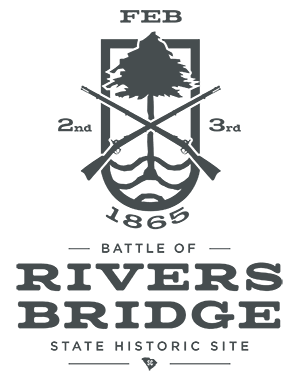 HOURS
9 a.m. - 6 p.m., daily
OFFICE
11 a.m. - noon, daily


PETS
Pets are allowed in most outdoor areas provided they are kept under physical restraint or on a leash not longer than six feet.


No Wifi Available
BY THE NUMBERS
3.5
miles of hiking trails
3
hiking trails featuring a variety of natural and cultural resources
390
acres bordering the beautiful Salkahatchie River and Three Mile Creek
1
rental community building that can accommodate up to 100 people
7
days a week the park offers tours
7
World War II veterans remembered
4
county Civil War monuments
Rivers Bridge State Historic Site
Midlands
Top 5 Things To Do
Visit the more than 150-year-old Confederate Breastworks.
Walk the mile-long trail following the path of both the Confederate and Union armies.
Visit the hallowed memorial grounds where soldiers from several wars are interred and where annual memorial services still occur.
Attend one of River Bridge's guided Saturday programs.
Enjoy learning the history of the site through our museum and many waysides.