Rivers Bridge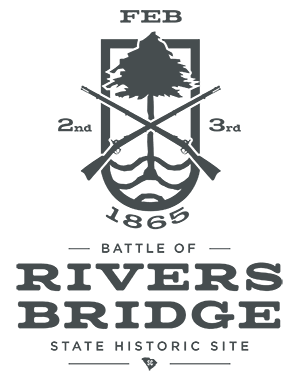 HOURS
9 a.m. - 6 p.m., daily
OFFICE
11 a.m. - noon, daily


PETS
Pets are allowed in most outdoor areas provided they are kept under physical restraint or on a leash not longer than six feet.


No Wifi Available
Rivers Bridge State Historic Site
Midlands
**Our Ultimate Outsider stamp is located at the park kiosk near the office/community building. A stamp can also be found inside the office.
Rivers Bridge State Historic Site marks the site of one of the Confederacy's last stands against General William T. Sherman's sweep across the South. Of all the Civil War Sites in South Carolina, the Battle of Rivers Bridge is the only one in the State Parks system that is home to a preserved battlefield.

A ¾-mile guided trail details the Battle of Rivers Bridge by way of interpretive panels along the trail. Ranger-guided tours of one of the most well-preserved Civil War sites in South Carolina, which includes still-intact earthen fortifications, are also given throughout the year.


BY THE NUMBERS
3.5
miles of hiking trails
3
hiking trails featuring a variety of natural and cultural resources
390
acres bordering the beautiful Salkahatchie River and Three Mile Creek
1
rental community building that can accommodate up to 100 people
7
days a week the park offers tours
7
World War II veterans remembered
4
county Civil War monuments