Rivers Bridge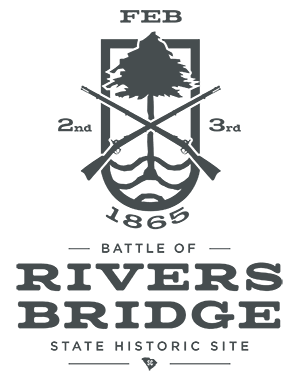 TRAVEL ADVISORY
Join us for on Friday, May 10 for the 143rd Annual Commemoration of the Confederate Memorial Day. Click here to learn more.

HOURS
9 a.m. - 6 p.m., daily
OFFICE
11 a.m. - noon, daily

ADMISSION
Park admission is free. Saturday tours are $5 for adults, $2.50 for SC Seniors, disabled and military. Children under six and anyone wearing an Ultimate Outsider shirt are free.

PETS
Pets are allowed in most outdoor areas provided they are kept under physical restraint or on a leash not longer than six feet.


No Wifi Available
Rivers Bridge State Historic Site
Midlands
Frequently Asked Questions
Does Rivers Bridge State Park have a campground?
No. We no longer have a campground at Rivers Bridge
How much does it cost to rent your community building and picnic shelter?
The community building rents for $176.34 per day M-Th and $219.14 Fri-Sun. The picnic shelter costs $31.89 M-Th and $39.38 Fri-Sun.
Do you have to have reservations to use the community building or picnic shelter?
Reservations are needed to use the community building to insure it is properly prepared. The picnic shelter can be used without cost on a first come-first serve basis if it has not already been rented.
What are the hours of use for the community building and the picnic shelters?
Normal use hours are 10 a.m. to 6 p.m. These can be altered at the users request. The park can be closed later if requested.
When visiting the battlefield, how far of a walk is it from the road?
Approximately 1 mile.
How far is the walk around the battlefield?
Between 1/4 and 1/2 mile.
Who won the battle of Rivers Bridge?
The North
Is the relic room still open at Rivers Bridge?
No. The space now serves as memorial to those on both sides that sacrificed their lives for their respective countries.
What are your metal detection guidelines for State Parks and State Park properties?
Click here for a printable version of our guidelines concerning metal detector use on state parks and state park properties.
Are you allowed to fish at Rivers Bridge and where can you fish?
Fishing is allowed on Three Mile Creek, but not at the battlefield.
Are grills available for guest at the park?
Grills are available at the picnic grounds.
Does River Bridge allow guest to metal detect?
No. It is prohibited by state law in order to protect the archaeological resources that might be found here. This allows us to better interpret the battlefield and the events that took place there.
Where is the park's Ultimate Outsider stamp located?
Our Ultimate Outsider stamp is located at the park kiosk near the office/community building. A stamp can also be found inside the office.
For more general, statewide frequently asked questions, please click here.