Baker Creek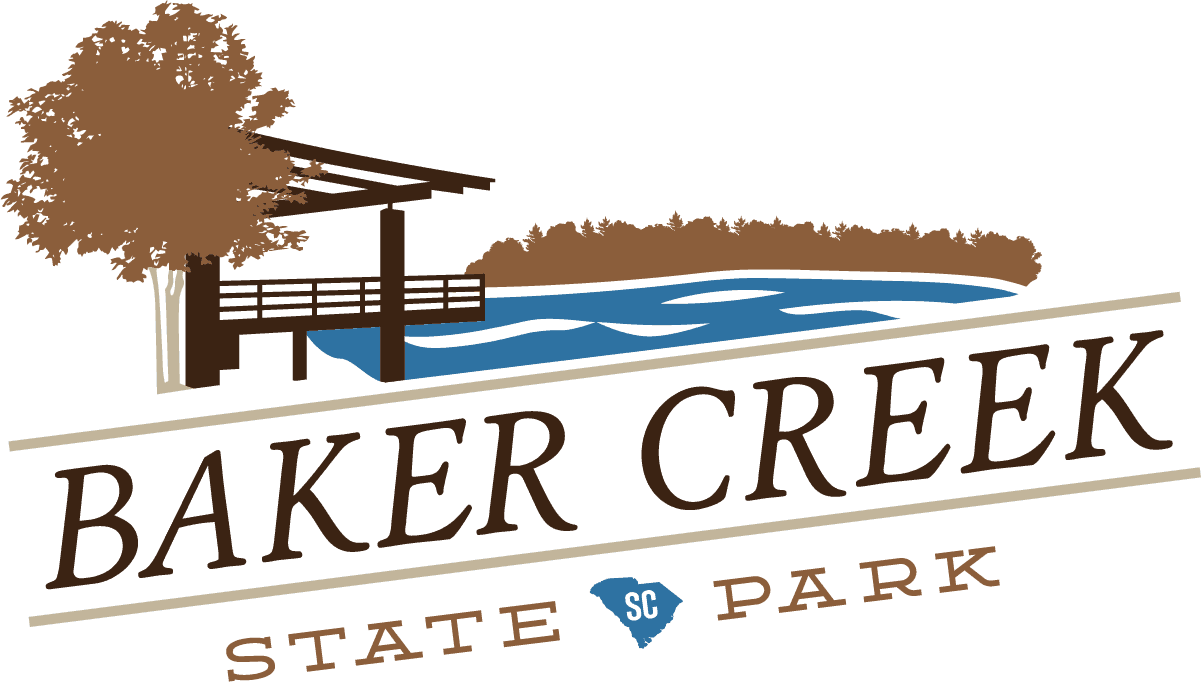 TRAVEL ADVISORY
Baker Creek State Park is open from March 1 until Sept. 30, annually.


HOURS
M-Su 6 am-6pm (extended to 9pm during Daylight Savings Time). The park is opened from March 1 - September 30 each year.
OFFICE
11am-noon, daily

ADMISSION
$2 adults; $1.25 U.S. seniors; age 15 & younger free



PETS
Pets are allowed in most outdoor areas provided they are kept under physical restraint or on a leash not longer than six feet. Owners will be asked to remove noisy or dangerous pets or pets that threaten or harass wildlife.
No Wifi Available
Baker Creek State Park
Midlands
Trails
Mountain Bike Trail
Length: 10 miles of connecting loops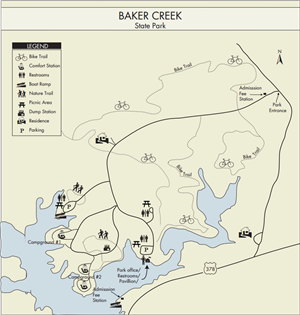 Type: Mountain Biking/ Hiking Trail

Difficulty: Moderate

Description: From the kiosk near the park office, begin this medium to strenuous, rolling, hiking/biking, two loop dirt trail. You will pass through various habitats of oak and pine woods where some very large trees can be seen, including a poplar that may be the largest in the state. In lush creek-side vegetation, you may see a variety of birds, snakes, and other wildlife. Although the trail is easy to follow, watch for markers and signs to keep you on track where the trail joins forest access roads, and the main park road. Although, not especially technical or strenuous for mountain bikes, the roads provide access around some of the more strenuous sections.



Go left for the outer or larger loop, which crosses the main road and passes the residence of the Assistant Superintendent, then returns to the main road. You can turn right, cross the bridge, and return to the pavilion, or turn left and ride or hike the smaller loop.



Go right and follow Baker Creek for a sort distance. At the main road, turn right and cross the bridge. You can turn left and go back on the outer loop, or turn right and ride or hike the inner loop.
Wild Mint Nature Trail
Length: 0.8 miles

Type: Hiking Trail

Difficulty: Easy

Description: Enjoy scenic views on this short, occasionally steep, foot-traffic only, nature trail. Trail signs (green posts with white letters) will guide you on a pine needle covered path, which descends toward the lake, and then winds through the woods overlooking the shore. All through this area you may encounter a variety of birds, snakes, and other wildlife. Just past the footbridge you will walk uphill and cross the park road into a dense pine forest. After you re-cross the road, you will return to the start on the short spur near the beginning of the trail.
Walking Trail
Length: 0.7 miles

Type: Hiking Trail

Difficulty: Easy

Description: Starting from the boat ramp parking area, this moderately difficult loop trail descends toward the lake into a predominately hardwood forest. You can enjoy a scenic view of the lake and possibly encounter a variety of wildlife as you ascend along the lake into a pine forest. Shortly after you cross the park road you will return to the parking area.



Remember to wear insect repellent in warm weather. Pets are permitted only on leashes. Restrooms are available at the boat ramp parking area.