Water Activities
Walk the shores of a secluded barrier island; launch your boat in deep, crystal-clear South Carolina lakes; visit the state's only lighthouse open to the public on South Carolina beaches; canoe down winding blackwater rivers - for family fun, romantic destinations and outdoor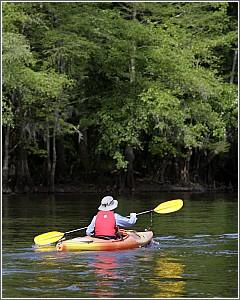 adventure, South Carolina beaches, lakes and rivers offer unmatched opportunities for your favorite water activities.
South Carolina Beaches in State Parks
Remote islands rich in Native American history and oceanfront parks with miles of white sand beaches, fishing piers and picnic areas - South Carolina State Parks offer some of the best public access beaches on the coast. Beach parks include freshwater lagoons, saltmarshes, maritime forests, a 3,000 year-old Indian shell mound, a lighthouse, a castle and one of the best birding sites along the East Coast.
State Parks Lakes in State Parks
South Carolina boating, fishing and scuba diving destinations in our lakes and rivers are world-class. The natural mountain lakes and vast man made reservoirs of the state park system create an amazing collection of 23 scenic lake parks. Boat ramps, campgrounds, cabins, meeting facilities, hiking trails, natural wonders and cultural treasures are just a few of the attractions you'll find around these South Carolina lakes.
State Parks Providing River Access
From fast running mountain rivers to the longest winding blackwater river in the nation, the scenic rivers of South Carolina offer great fishing, kayaking and canoeing adventures. Twelve scenic state parks are located in the best natural beauty South Carolina has to offer along the rivers of the Palmetto State.

If you love the water, you won't find a better day-trip or vacation destination than the beautiful South Carolina beaches, lakes and rivers in our state parks.