Devils Fork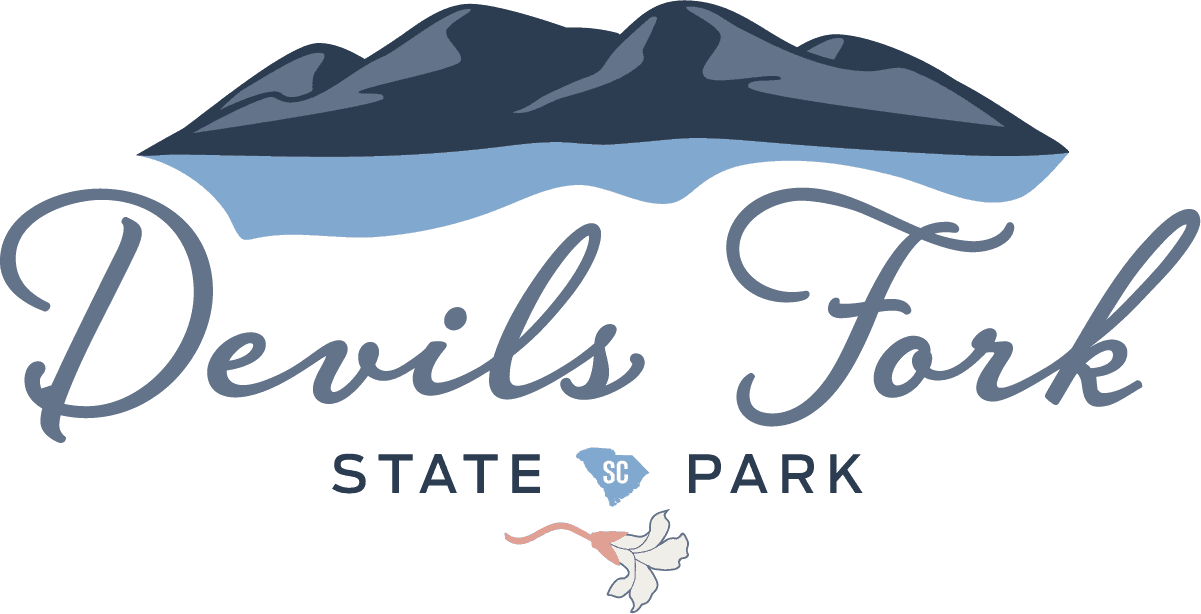 HOURS
Late spring to mid-fall, 7am-9pm, daily; late fall to mid-spring 7am-6pm, daily.
OFFICE
9am-5pm, daily.

ADMISSION
$5 adults; $3.25 SC seniors (age 65 & older); $3 children ages 6-15; ages 5 and under, free.


PETS
Pets are not allowed in the villas or the villa areas. Pets are allowed in most other outdoor areas provided they are kept under physical restraint or on a leash not longer than six feet.
Wifi Available
Devils Fork State Park
Mountains
Frequently Asked Questions
Do the campsites and villas have wi-fi service?
Complimentary wi-fi is available in all of our villas at Devils Fork State Park. We also have wi-fi at the Park Visitor Center for campers and other guests who may need access. Please check at the park store/ranger station for password information.
Do the campsites have sewer hookups?
There are no sewer hookups at the campsites. There is a dump station located across from the trash and recycling area near the campground exit.
Is cable or satellite television service provided in the campground?
No, we do not offer cable or satellite television service in the campground.
Where may we park our cars if they do not fit on the campsite?
Two vehicles are permitted per campsite. Additional vehicles will be charged an additional rate of $10 per vehicle per day to park in the overflow parking area. Overflow parking for campers is located in the day-use/picnic area. Please ask park staff if you need directions to the area.
Where are golf carts permitted?
Golf carts must have a valid DMV registration sticker displayed as well as park guest tag. Golf carts must remain in the campground area. When in use or parked they must remain on paved portions of the road.
Do you need a permit to operate a golf cart at the park?
If you are a South Carolina resident your golf cart must be registered with the South Carolina Department of Motor Vehicles and display the registration tag. Out-of-state guests will be required proof of liability insurance prior to operation of their cart on park property.
Where may I purchase propane?
The Loco Mart gas station or Dollar General are located outside of the park and are the nearest places to purchase propane tanks. Please ask park staff for directions.
Are any waterfalls on Lake Jocassee accessible by car?
To access the waterfalls on Lake Jocassee from Devils Fork State Park you must travel by boat. Whitewater Falls is the nearest waterfall that can be accessed by car.
Does the park rent boats or jet skis?
We have contracted with Eclectic Sun for on-site boat rentals for the 2013 season. They will operate out of the Pavilion in the day-use area at the park. Available for rent will be pontoons, canoes, kayaks, SUPs and jet skis. Please visit their website for more information. Links to other local rental facilities can be found under area info on this website.
If we are meeting someone with a boat, where may we park our car?
The parking lots located near the main boat ramp and park store/ranger station are designated for vehicles with trailers in tow, only, Friday through Monday from May-Dec. and holidays. All single vehicles must park in single vehicle parking places in the day-use/picnic area.
What type of boats are allowed on Lake Jocassee?
There are currently no restrictions on the type of boats allowed on Lake Jocassee. For more information or questions about the lake contact the SC Dept. of Natural Resources.
Where is the park's Ultimate Outsider stamp located?
Our Ultimate Outsider stamp is located just outside the Ranger Station at the park kiosk.
Where can I find a list of state park rules and regulations?
You can find the South Carolina State Park rules and regulations, along with campground rules and regulations at this link.
For more general, statewide frequently asked questions, please click here.