Chester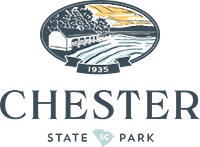 HOURS
9 a.m. - 6 p.m., daily (extended to 9 p.m. during Daylight Saving Time)
OFFICE
11 a.m. - noon, daily

ADMISSION
$2 adults; $1.25 SC seniors; age 15 & younger free

PETS
Pets are allowed in most outdoor areas provided they are kept under physical restraint or on a leash not longer than six feet. Owners will be asked to remove noisy or dangerous pets or pets that threaten or harass wildlife.
No Wifi Available
Chester State Park
Midlands
Things To Do
Fishing Information: Enjoy fishing for bass, bream, catfish and crappie in the park's 160-acre lake. A valid South Carolina fishing license is required.


Fishing Pier: There is a fishing pier located in the campground and a pier area around the boathouse that may be used for fishing.


Fishing: Yes
Freshwater Fishing: Yes
Boating and Boat Access: A hand-launched access area is available for private boats, which are restricted to hand-powered and electric trolling motors.


Fishing Boat Rentals: Non-motorized fishing boats rent for $10 per half day. Private electric trolling motors are allowed to be used on park fishing boats.


Boating: Yes
Boat Ramp: Yes
Playground Equipment: Yes
Picnic Shelters: Yes
Playground: There are two large playgrounds located in the day-use area of the park.


Bird Watching: The day-use area overlooking the lake is an ideal spot for bird watching. Various Piedmont South Carolina breeds of birds, raptors and bald eagles may be seen depending on the season.


Geocaching: Geocaching is permitted. Several geocaches are located on the park. For more information visit the official geocaching website.


Birding: Yes
Other Facilities and Activities: Disc Golf: There is an 18-hole and 9-hole tournament grade disc golf course located at the park.


Walking/Nature Trails: The Caney Fork Creek Nature Trail loops around the park lake and is approximately 1.3 miles in length.
Hiking: Yes