Table Rock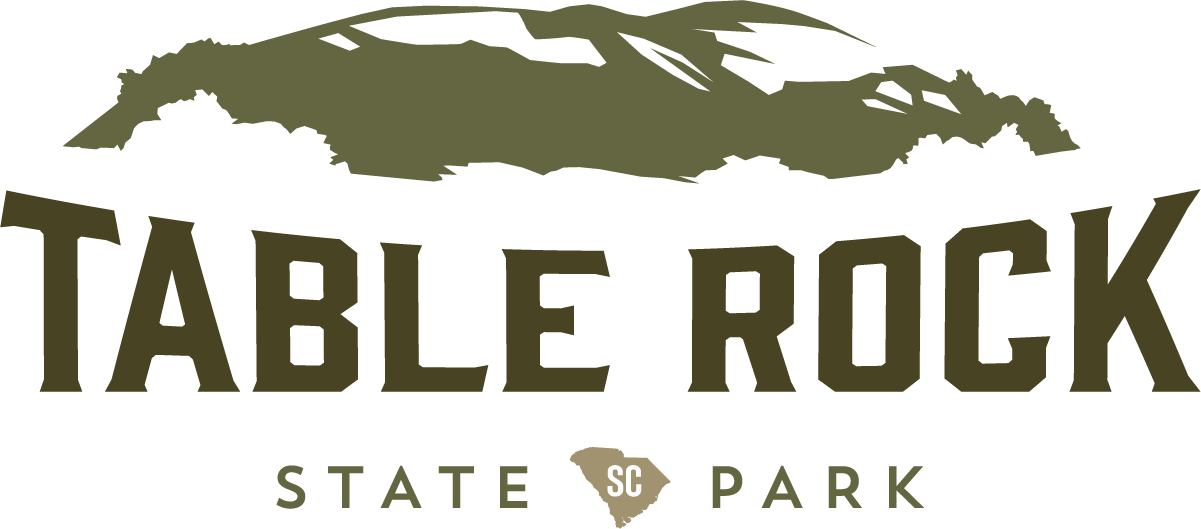 HOURS
Hours are Su-Th 7 a.m. - 7 p.m. (extended to 9 p.m. F and Sa).
Su-Th 7 a.m. - 9 p.m. (extended to 10 p.m. F and Sa), during Daylight Saving Time.
OFFICE
M-Su 8 a.m. - 6 p.m. Seasonal winter hours M-Su 9 a.m. - 5 p.m.

ADMISSION
$5 adults; $3.25 SC seniors (age 65 & older); $3 children ages 6-15; ages 5 and under, free.


PETS
Pets are not allowed in the cabins or the cabin areas, or on the swim beach at Table Rock State Park. Pets are allowed in most other outdoor areas provided they are kept under physical restraint or on a leash not longer than six feet.
Wifi Available
Table Rock State Park
Mountains
Things To Do
Fishing Information: Anglers enjoy fishing in Pinnacle Lake (36 acres) and Lake Oolenoy (67 acres) for bass, bream and catfish. A South Carolina fishing license is required.


Fishing Pier: A fishing pier accessible to the physically impaired is located on Lake Oolenoy.


Fishing: Yes
Freshwater Fishing: Yes
Boating and Boat Access: A boat ramp provides private boat access to 67-acre Lake Oolenoy. No gas motors are allowed. Electric trolling motors and paddle powered boats are permitted. The Lake Oolenoy access is open from 7 a.m. to 7 p.m. during eastern standard time (extended to 7 a.m. to 9 p.m. daylight savings time). Private boats must be put in at the boat ramp, launching from the shoreline is not permitted. Private boats must be removed from Lake Oolenoy before the park closes. Private boats are not allowed on 36-acre Lake Pinnacle, however, rental fishing boats, canoes, kayaks and pedal boats are available for rent at the park to use on Lake Pinnacle. Boaters are required to pay the daily park admission in order to launch their craft or to use boats rented from the park.


Fishing Boat Rentals: Non-motorized fishing boats are available to rent on Lake Pinnacle for $15/day, year round. Boats may be rented from the park headquarters year round and seasonally at the Lake Pinnacle boathouse. Life jackets must be worn at all times.


Canoe/Kayak Rentals: Rental canoes and kayaks are available to use on Lake Pinnacle for $5/ half hour year round. Canoes and kayaks may be rented from the park headquarters year round and seasonally from the Lake Pinnacle boathouse. Life jackets must be worn at all times.


Pedal Boat Rentals: Pedal boats are available to rent on Lake Pinnacle for $7/per half hour seasonally from March 1 through the Sunday after Thanksgiving. Boats may be rented from the park headquarters year round and seasonally at the Lake Pinnacle boathouse. Life jackets must be worn at all times.

Boats may be rented daily from 9 a.m. to 4:30 p.m. during Eastern Standard Time and 8 a.m. to 5:30 p.m. during Daylight Savings Time. Boats may be rented year round at the park headquarters and seasonally at the Lake Pinnacle boathouse. For all rentals, a person of at least 16 years of age must be present in the boat at all times. The park supplies life vests that must be worn at all times. Day-use visitors who are renting boats are required to pay the daily admission. Swimming is not permitted from boats. All rentals are weather dependent and subject to availability. Please contact the park before you make final plans.


Boating: Yes
Paddling: Yes
Wireless Internet Access: Complimentary wi-fi is available at the park visitor center located on SC Hwy 11 and at the country store located near the entrance to the campground area. The wi-fi is also accessible from campsites 1-5 in the campground.


Park Store/Gift Shop: The country store located at the campground entrance offers limited grocery items, drinks, snacks, firewood and souvenirs. The park visitor center located on SC Hwy 11 also has an assortment of souvenir items, snacks, drink and books.


Playground Equipment: Yes
Picnic Shelters: Yes
Playground: Playgrounds are located in the day-use area of the park near the trailhead and swimming area.


Swimming Area with Lifeguard: Seasonal lake swimming is offered contingent on lifeguard availability in Pinnacle Lake. The swimming area includes a high dive board, low dive board and sandy beach. Pets are not allowed on the swim beach.


Swimming: Wading is also allowed at your own risk in Carrick Creek near the observation deck. Swimming is not permitted from boats.


Bird Watching: Great places for bird watching at the park include the area near the park visitor center and near the White Oak Shelter.


Geocaching: Geocaching is permitted. Several geocaches are located on the park. For more information visit the official geocaching website.


Birding: Yes
Hiking Trails: The extensive trail system carries hikers past streams and waterfalls to the top of Table Rock and Pinnacle mountains. Table Rock is an access point for the Foothills Trail and Palmetto Trail.
Foothills and Palmetto Trail hikers must display a valid parking permit when leaving vehicle overnight. The permit may be purchased at the park Visitors Center.

Hiking trails close ½-hour before dark. Overnight camping is not permitted on park trails. Hikers must complete a trail registration form at the kiosk before hiking the trails. Please keep all dogs on 6ft leash at all times.

The trails on the park are as follows: Carrick Creek (1.9 miles), Mill Creek Pass (.7 mile), Pinnacle Mountain (4.1 miles), Ridge Trail (1.9 miles) and Table Rock NRT (3.6 miles).


Hiking: Yes