Lake Warren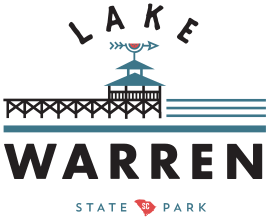 HOURS
9 a.m. - dark, daily
OFFICE
11 a.m. - noon, daily


PETS
Pets are allowed in most outdoor areas provided they are kept under physical restraint or on a leash not longer than six feet. Owners will be asked to remove noisy or dangerous pets or pets that threaten or harass wildlife.


No Wifi Available
Lake Warren State Park
Coast
Frequently Asked Questions
What are the park hours of operation?
Currently the park is operating 9:00 a.m. until 7:00 p.m. or sunset, 365 days a year. During Daylight Savings Time, the park gates will close at 7:00 unless there are people actively using the park (picnicking, fishing, hiking) if so the park closes at sunset. During standard time the park closes at sunset (we'll let you watch the sunset, please leave promptly after the sun has dipped below the horizon).
Is there camping at Lake Warren State Park?
Yes, but it is VERY primitive. A group camp is located behind our Park Shop, designed for use by organized groups. If no group is using the area, we do allow individuals to camp there. The cost is $12.50 a night, and reservations for individual use can only be made 2 weeks in advance by calling or visiting the park. The only convenience in the area is potable water, the day use public restrooms are available but are about 900 yards from the camping area
How big is Lake Warren State Park?
Lake Warren is 440 acres, on both sides of Lake Warren. The developed park is on a 90 acre tract, that also includes some SC DNR land that borders the lake. The Northwest section, located across the lake is 350 acres, most of it flood plain, and the area is mostly in pine trees. Currently there is not a trail system on the NW Park, and the area is used by several groups to study pine forests.
Can you rent boats at Lake Warren State Park?
Currently, Lake Warren has three jon boats for rent, for $25 per day which includes life jackets, an electric trolling motor and battery. The boats are designed to hold two average size adults and fishing equipment. There is a third seat that can accommodate a child. You can reserve a boat up to 3 days in advance by calling the park (803) 943-5051, emailing lwarrensp@scprt.com or stopping by the office.
How big is Lake Warren?
Lake George Warren is approximately 200 acres, about a mile long from the dam on Lake Warren Road to Hopewell Road. The lake is shallow – 4-5 feet in most places, but the two creek beds (Briar Creek and Black Creek) can get to 20+ feet in depth.
What kind of fish are in the Lake?
Largemouth Bass, Crappie, Brim and Catfish are the primary game fish. Sterile Grass Carp have been introduced –please release them if you catch one. Regular SC DNR Fishing Rules and Regulations are in force, so be sure you have your license on you.
Can you fish in the pond at Lake Warren State Park?
Yes, but you need to follow the same rules as fishing in Lake Warren. Additionally, no boats of any kind are allowed in the pond. The observation deck on the trail is NOT for fishing. The pond has the same types of fish as the lake, and some decent sized bass have been caught in "Two Acre Pond."
How many alligators are in the park/lake?
Too many, we don't know how many, and alligators produce a lot of baby alligators every year. Fortunately, Heron, Egrets, and other predators remove most of the baby alligators. Alligators as large as 13 feet have been sighted at Lake Warren and ALL alligators should be respected. Keep your dogs on a leash at all times and keep an eye on them when they are near the water.

What kind of wildlife is at Lake Warren State Park?
Lake Warren is a birdwatchers paradise, combining a lot of habitats for birds common to the lowcountry. Bald Eagles, Osprey, and Swallow Tail Kites have visited the park, the noisy Barred Owl and several variety of hawks are common sightings at the park, wading shorebirds, waterfowl, turkey, and songbirds are plentiful as well. The first mammal you will see (aside from those in your car) will probably be squirrels, but armadillos, opossum, and rabbits are seen frequently, deer often pass through the park, as well as fox, coyote, bobcats, and raccoons.

Do you have any jogging trails?
Lake Warren has two trails, the Nature Trail and the Interpretive (Lowcountry Discover) Trail. The Nature Trail is 3/10 of a mile long and goes from the playground to the lake and loops back to the playground. The Lowcountry Discovery Trail is a 1.1 mile loop trail that goes from the picnic area thru open fields, pine stands, into bottomland hardwoods and out thru mixed hardwoods and back into pine stands. There is an observation deck at the pond, about ¾ of the way around the trail. You may jog these trails, but be respectful of the walkers and hikers who are going at a slower pace to enjoy the experience at a slower pace than you do.

Where is the park's Ultimate Outsider stamp located?
Our Ultimate Outsider stamp is located on the back side of the kiosk near the park office.
For more general, statewide frequently asked questions, please click here.