Park Manager Bonnie Lewis
Park Service Profiles
Just Horsin' Around
It's all about horses at H. Cooper Black Jr. Memorial Trial & Recreation Area in Cheraw, SC. And in the thick of things is Park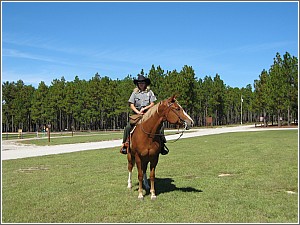 Manager Bonnie Lewis.
A 28-year veteran of the South Carolina State Park Service, Lewis especially enjoys her job at this park. "I must say I enjoy H. Cooper Black more because I get to ride my horses a lot more on the job. We just horse around here," Lewis said.

Born in Huntsville, Ala., Lewis' family moved a number of times before settling in Cheraw, where she earned an associate degree in business from Northeastern Technical College.
From Lifeguard to Assistant Manager
Lewis began her parks career at Cheraw State Park as a lifeguard. She was later hired as a Ranger I and through a series of promotions became the park's assistant manager. As with most parks, her duties included keeping the park's facilities and grounds safe and clean, collecting money from cabin and campground users, office paperwork and park patrol. At Cheraw, the ranger staff also works the pro shop and golf course.



A lot of things happen during ones parks career, and for Lewis, one of the funniest came at Cheraw. "I was painting a cabin by myself, came down the ladder and flipped the bucket of paint on my uniform (lovely blue coveralls – one size fits all)". No one saw her and to be sure it stayed that way, Lewis ran to cabin nine where she lived and quickly changed clothing.



It also was Cheraw where Lewis faced the hardest thing in her career – an accidental drowning. "Some guys were fishing on a chilly day in a V-hull bottom boat. The boat rocked throwing one of the boaters into the water. He couldn't swim nor was he wearing a lifejacket," Lewis said. "The rescue squad had to drag for his body for about two hours. When they brought the body out, his hands were together as if he was praying."
"Like Tony the Tiger…it's Great"
H. Cooper Black is a 7,000-acre park with more than 20 miles of equestrian trails, campsites and facilities for national level field trial and retriever competitions. As park manager, Lewis has mandatory paperwork responsibilities. She also mows the grass, cleans stalls and corrals, and horses around a lot. So it's no surprise that Lewis is most satisfied when meeting the user groups – horseback riders, retriever and bird dog people who use the park's facilities for special events.



Lewis lives on the park with her husband, Tommy, whom she calls a great guy, and she has a step son. As for encouraging others to become a ranger, Lewis said, "If you enjoy meeting people and working outdoors, there's no better life than that of a park ranger." She summed it up saying, "Like Tony the Tiger - it's Grreat."



Since this story was written, Bonnie has retired from her career with the SC State Park Service.