Law Enforcement
Teams & Recognition
The effective management of state parks is an extremely complex responsibility. The number and diversity of visitors and recreational opportunities at state parks can make a park ranger's job difficult at times. While law enforcement is not a primary role of the State Park Service, it is one of the most critical with regards to safety and public trust. The goal of law enforcement in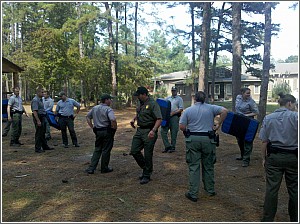 the State Park Service is simple, yet paramount: "To protect lives and resources". Park rangers have a responsibility to safeguard South Carolina's parks and resources, but protecting the public is of equal importance.
The 1976 Code of Laws of South Carolina gives law enforcement authority to members of the State Park Service. Law enforcement officers in the State Park Service are commissioned as State Constables by the Governor through the S.C. State Law Enforcement Division (SLED).
Emergency Response Personnel (ERP) is a special-function team managed within the State Park Service to support the State Law Enforcement Division (SLED). The purpose of this team is to support the SLED when the Governor declares a State of Emergency.
Park Rangers must be trained and certified in order to hold commissions. Park Rangers must also complete annual in-service training, including defensive tactics, handcuffing, firearms, legal updates and policies. The State Park Service has law enforcement instructors, certified by the Criminal Justice Academy, on staff to carry out this training.
The agency's philosophy is that our mission and public service obligations can most effectively be pursued by maintaining a law enforcement profile to perpetuate the image of the traditional Park Ranger. The key provision that will preserve the Park Ranger image is to develop and maintain positive, cooperative relationships with local authorities. Such relationships will provide critical support, as well as resources and functions that do not exist within the State Park Service.